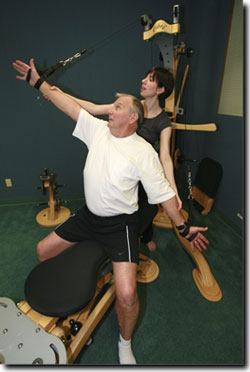 INNATE INTELLIGENCE ® wellness center is a Portland Oregon based exercise studio offering private Pilates and GYROTONIC® instruction, weight training, and nutrition and diet counseling.
Located in the heart of downtown Beaverton, INNATE INTELLIGENCE® approaches exercise and personal well-being by emphasizing balance, moderation and variety of training. We strive to employ the best exercise system suited to your individual needs and, with ongoing assessment, adapt with you as those needs change.
All INNATE INTELLIGENCE® instructors are professionally trained and certified, and maintain active continuing education schedules. We are dedicated to the achievement of individual goals, but are well aware of the "baby steps" often required along the way. We are passionate and patient.
The INNATE INTELLIGENCE® approach improves our clients strength, balance, and flexibility, and most certainly their general sense of wellbeing. We can almost guarantee a good laugh or two as well.
INNATE INTELLIGENCE® provides:
Synergistic exercise systems
Systemic and integrated physical workouts
Balanced training/treatment approach
Ongoing fitness assessment
Evolving workouts
Diet analysis and coaching
Weight management
Golf specific training/golf swing enhancement